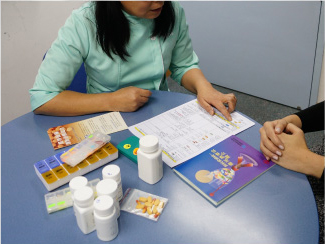 Home care team serves as a crucial service within the multidisciplinary team in local community. The unique service is especially important for patients who have no access to other community services due to many inhibiting factors for seeking help. The service conducted by professional AIDS care nurses, aims to improve PLHIV's management of medication adherence, ability in self-care and awareness of the importance of risk reduction. The service will commence as soon as a referral has been received. The initial assessment will be conducted at patient's home and service commenced in home hospital and AIDS clinic. Besides care renders to PLHIV, education on HIV/AIDS and support are provided to their care-givers.

This unique service assists the care-givers to alleviate anxieties regarding HIV/AIDS and how to care for the patient at home. Our home care nurses, through intensive contact, fill in the gap where hospitals and clinics cannot cater for needs of PLHIV outside clinic hours. For those who need urgent consultation and assistance outside office hours, a 24-hour emergency service is provided. From our previous experience, it has been proven that the service has helped many PLHIV to handle urgent needs outside clinic hours and is especially important for the newly diagnosed and those who have started new regimen of HAART.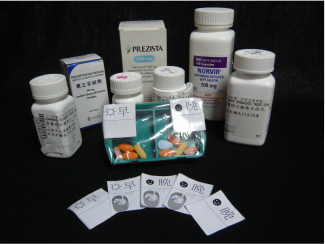 The SAC home care service provides 7 major service scopes including:

1) Medication supervision and administration
2) Safer sex and risk reduction education
3) Rehabilitation
4) Emotional support
5) Psychosocial support
6) Bereavement counseling for care givers
7) Collaboration with other health care professionals

Those services are aiming at improvement of their health status and well beings. Each case is seen as an individual and after assessment, a treatment plan and goal set will be established in accordance to the different needs of the individual patient. The treatment plan will be conducted in different stages but normally will start from physical intervention aiming for the final community re-integration.

At the initial stage of intervention, the target includes drug supervision, health knowledge education, safer sex education and related plan according to the health condition of the patient. In addition, ample emotional support with frequently home and hospital visits encourages the patients to work towards achieving their goals.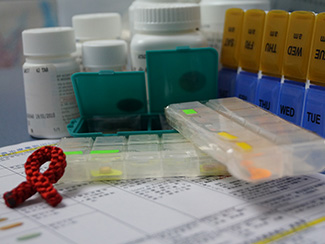 The close collaboration of home care nurse team and our Day Care Centre team has witnessed many successful cases. Many PLHIV, including singleton and family cases, managed to build up good support networks with other members. These positive interactions help them with better life adjustment and better prepared them for community reintegration.

Regular phone contacts, face-to-face interviews and training were provided to maintain communication with PLHIV and to provide immediate assistance in need. 100% of service recipients indicated improvement in their drug adherence, health care and self-care knowledge. 100% expressed that the home care service supported both their psychological and physical well beings after receiving the service. This in turn helped them to improve their coping capacity for the HIV/AIDS disease. We are really happy to witness successful achievement of some cases. For example, some cases who were very sick and with poor prognosis and now managed to go through the rehabilitation process and hoping for a brighter future with the possibility of job retraining.